What does your escape room's website need to captivate your client and lead him/her towards the BOOK NOW button?
Find out here!
Hint: You're going to need the help of two of the "gods" with most followers on social media!
---
Mjolnir.
One of the most powerful weapons of Nordic mythology.
Inseparable companion of Asgard's favourite golden boy, the God of Thunder.
Thor's hammer, as you well know, is unstoppable.
Its effects, demolishing.
But without Mjolnir, Thor would not be Thor.
Let's admit it!
We know, it hurts.
Without Mojlnir, Thor would still be a very cool divinity, but as far strength and power levels, it would definitely fall back in the scale of almighty gods…
Plus how would poor Thor be supposed to keep cosmic equilibrium with so much evil being constantly annoying him?
Starting with his brother Loki!
Well, there you go.
We rest our case.
Mjolnir is super powerful.
And so is your escape room business' website.
Your business' website is like Thor's hammer.
Yes, for sure – your business is worth its price in gold, be it an escape room, a virtual reality arcade or a thematic restaurant …
Whatever it is.
You have invested a lot of time, a lot of money and a lot of effort.
Like Thor, it's a very cool business, we're sure.
But, without a truly powerful web, you won't be able to fight off all those many villains that constantly lurk in your universe.
Neither will you be able to generate the necessary impact for your clients to choose you and only you.
Especially clients who reach you via digital channels which, are the majority today.
It's true, having a viable business doesn't only depend on having a spectacular website.
There are many other factors that will decide if you continue to sit on the throne or if you go home without any possibilities: from your attitudes and skills to your ability to delegate, organise, plan, sale, etc …
But, without a truly intelligent and powerful website, the odds that you end up lost in a bottomless black hole are considerable.
Sorry, Coco Station, but that's super ambiguous.
What do you mean that your website must be truly powerful?
We are about to put some clarity into this notion, but first, a note of caution.
Web page design, like the universe itself, is in a state of constant evolution.
What five years ago was the ultimate in design, today might have us in stitches.
And surely, in five years' time, what we are doing today might seem total nonsense.
And imagine when Skynet takes over planet earth!
So, if you must take something home, take this:
An effective website will always one that offers an unbeatable user experience to the Odin of your business.
To whom?
To your client
The centre of your universe.
And what does your escape room business website need so that Odin is enthralled and compelled to press the Book Now button?
You have to lay the red carpet for your almighty! And this carpet must incorporate three key elements:
1. Graphic design and spectacular branding
2. Smart and responsive web development
3. Persuasion and storytelling
That's the trio that' is going to make Odin give you a place next to him in Valhalla!
Spectacular graphic design and branding
If you've read our "Digital communication lessons taken from Johny Mnemonic (or why must seek for your target audience at all costs", you'd know that the first step in designing your business website is to get to know your ideal client.
So can we assume that you've done your homework and that by now you know the person for whom you created your escape room business to perfection?
Awesome!
In other words, you master their language.
You empathise with their vision of the world.
You know their sense of aesthetics.
Now, it's time to create a brand that encompasses those elements.
Now, it's time to develop a story.
But hold on!
Refrain from using the standard labyrinth, crossed keys or question mark like so many other escape rooms!
What do you reckon your clients will think when they find more of the same when they reach your website?
What are you telling them?
You are telling them you have not made an effort!
You are telling them that you can't be bothered to be different!
That you don't really care what they think!
So you need to pay a lot of attention to all aspects of your brand's graphic design: starting with the logo, and including your colour palette, your fonts, icons, photographs, etc … and make you're your branding is meticulously reproduced on your website and any other advertising material (digital or not).
Launching an escape room or any other type of business without a spectacular branding is like jumping headfirst from Asgar without Heimdal preparing the rainbow bridge.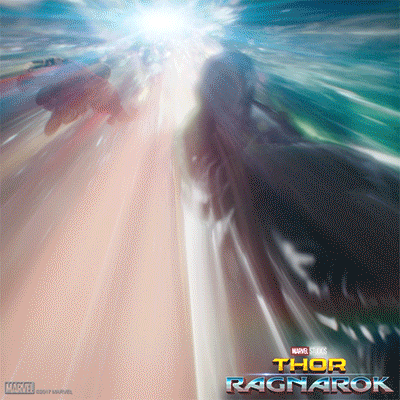 Very bad news.
Smart and responsive web development
Here's where Thor's hammer is going to come in handy.
Because your website's design gives you the power pulverise your competitors.
And to demolish any doubts your clients may have about you.
With your website design, you have to leave them (almost) senseless with so much wonder!
And no, don't tell us that what really matters is the stories in your escape room …
The puzzles …
The settings and atmosphere…
The game master …
Of course, all that matters!
But how will your clients know that all these elements are out-of-this-worldly if you don't display them on your website?
There you go.
But you're going to tell us that in your line of business you can't show too much because otherwise people would discover what's in the room and the surprise element will vanish.
We hear you, but: that's why you need intelligent design.
Design that introduces your clients to the universe that you've created.
Design that creates expectation.
That incites you to immerse yourself in your stories.
That instigates them to talk about you.
And that differentiates you from the rest.
How do you do it?
To start with, pleeease! Don't ever try to make a website on your own.
Those days have long gone.
Today, you need professional websites with intuitive, clear and direct navigation.
A logical architecture dressed in style.
Yes, looks are important.
And they have to match the branding you've created.
But, above all, you need a website where your Odin can make his reservations without any obstacles.
No challenges or puzzles of any kind here, please.
One of the goals of your escape room's website is to make your customer's journey as easy as possible.
Do they want to book one of your rooms?
Easy! A very clear button and super functional payment platform.
Do they want to read testimonials from other clients?
There they are – clearly indicated.
Do they want to find your location from their mobile?
No problem because your website is responsive.
No need to zoom up and down.
Or shrink and stretch the content!
That belongs to the Middle Ages!
Today your website must be designed for mobile devices.
Under no circumstances can you have a website for your escape room that is not responsive.
So, grab Thor's hammer and make sure that your website causes as much impact on PCs as it does on mobile devices!
Written Message
Your words: talk about powerful weapons!
Weapons of persuasion, of course!
Use them intelligently, and you will have your Odin (meaning your client) wrapped around your finger!
How?
Copywriting and storytelling.
What is copywriting?
Copywriting is the art and science of writing intelligent messages designed to persuade and convert your audience.
No, writing persuasively is not at all like writing an essay in uni or an editorial article for a magazine.
Persuasively writing each word has a main function: to tell your story to fascinate and guide the reader towards your final goal, be it subscription, purchase, download, etc …
That is, the essence of copywriting lies in persuasion.
Unfortunately, today that essence is increasingly more "decaff" because copywriting has become a confusing mix of ideas and definitions that leaves the rest of mortals without knowing how to apply it and wondering if it will have the desired results.
Some would tell you it's a matter of formulas.
Others that is a science.
Other that is an art.
Some would say that creativity has nothing to do with copywriting.
Others that a little.
And others, that a lot.
But, what's very clear is that copywriting is, above all, persuasive writing
With the arrival of the interwebs we have all become "sellers".
And most of our texts have become advertising texts.
All of us promote projects, activities, products, companies, stories and escape rooms.
And, therefore, our texts are persuasive texts.
So, how do you persuade with copywriting?
Copywriters have developed different formulas that are very useful as the basis of our texts.
But it takes a lot more than formulas to persuade a savvy client.
Formulas must be combined with the ever-changing laws of SEO …
With the basic rules of text readability …
You have to know how to structure a text so that it flows …
You have to take into account the user's experience …
The impact that texts will cause on mobile devices …
And yes, it's definitely important to be a creative person and to know how to find the perfect balance between formulas and storytelling.
Between metrics and creativity.
Nope.
It's not easy.
That's why we humbly recommend you leave to professional copywriters (ahem, ahem) like the team of crazy minds that meet at Coco Station.
And what about Storytelling?
Storytelling is to use that wonderful power that we humans have to tell stories and translate them to the digital screen in a way that connects immediately with the reader.
In marketing (digital or not), storytelling is a tactic used by designers, copywriters and advertisers to establish an emotional bond with the user, compelling him or her to focus on the story without realising that is actually focusing on a product.
Is it necessary to go to such extremes?
Do we all have to go around telling all stories?
Well, yes because the world of business today is increasingly complicated.
Storytelling greatly increases the chances that we have to establish an emotional bond with our client.
Why?
The digital user's brain releases dopamine when he lives or reads an emotional experience, of whatever kind: emotion, joy, surprise, sadness, etc … That allows him to remember that feeling for much longer and with greater precision.
In addition, today's consumers process up to 100,000 words in a day!
A human brain can't really make sense of the avalanche of information in today's world and selects that which is different, like a narrative.
And how do you share your stories with your client on your website?
Storytelling can be transmitted through many media: blog, web, video, app, email, etc.
In fact, the only limit is your imagination!
As the owner of an escape room business, these two weapons (copywriting and storytelling) are the air you breathe.
You don't just tell stories.
You make them reality.
And don't you think that you are not doing them justice if you don't translate them properly to the digital screen?
We do.
And our hearts sink when we see so many stories that are not reaching their wonderful potential.
And, that's why we're convinced that you need Mjolnir.
Thor's hammer will help you have a real impact with your brand, with your web design and with your digital writing.
And if we need a hand dealing with Odin or Thor or any other of the wonderful deities in Asgard and/or other earthly or interplanetary dimensions, talk to us 🙂